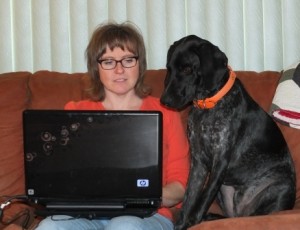 Hi, I'm Ida Smith,
I guess I'm suppose to share a little about myself. As those who know me might tell you, I'd rather talk about you than me, but here goes…
For starters, I'm human – no beauty queen, top of my class, have-it-all-together chick. That would be somebody else. There are days when the laundry or dishes pile up—sometimes both. Times I rant and rave over government waste, human trafficking, injustice, and who tracked dirt on the floor I finally mopped.
There are also days when Taz, my assistant, (see above picture) throws up on the carpet. I try to believe it has nothing to do with my cooking or latest story idea.
Truth be told, if there's a hard way to do something—I'll find it. I'm also self-diagnosed ADD. Squirrel! I find almost everything interesting—travel, culture, chocolate, science, gardening, psychology, history, photography…really, we could be here all day.
I grew up in Spokane, Washington during the 1970's and 80's. (All you math people can just stop counting your fingers—we're not going there.) Much of my childhood was spent riding bikes around the neighborhood, reading books, listening to my parents and their friends tell stories, making crafts, playing make-believe, and camping throughout Washington, Idaho, Montana, and occasionally Canada.
My dad was one of the original MacGyvers. So, I can conceptually build or fix a lot of things (cars not included). But just drilling a pilot hole usually ends in a split board. My mother and sister are whizzes in the kitchen and on the sewing machine. I on the other hand, am home-ec challenged. I'm also persistent and after years of practice I can cook.
Living in the Pacific Northwest has only fueled my love and enjoyment of God's beautiful creation. I enjoy snow skiing, hiking, and camping with my family. I'm happily married to a wonderful man and have two children who keep my life anything but dull.
I have a Bachelor in English with a creative writing emphasis from Lewis-Clark State College. I had the privilege to study fiction under Claire Davis, Winter Range, Season of the Snake, and Labors of the Heart. Creative non-fiction and poetry with Mark Sanders, Conditions of Gr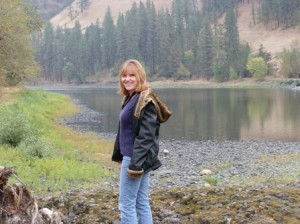 ace: New and Selected Poems, The Suicide, Before We Lost Our Ways, Here in the Big Empty, Riddled with Light: Metaphor in the Poetry of W.B. Yeats, and Landscapes, with Horses. I also studied poetry under William Johnson, Out of the Ruins and Idaho State Poet Laureate (1999-2000).
I don't get to read nearly as much as I'd like. That said, a "few" of my favorite authors are: Frank Peretti, Ted Dekker, Tosca Lee, Lisa See, and Charles Dickens.
I hope this gives you a glimpse of who I am and piques your curiosity about the variety of subject matter in my stories.
Happy Reading,
Ida Smith
Come with me as we meet a myriad of fictional characters and join them on their jagged journeys.
Want to Receive "Jagged Journeys" Short Stories
Every Six to Eight Weeks
?
Sign Up and Download A Never Before Published Short Story TODAY